Technical Cleaning
At G + Z Machine Services, we offer many technical cleaning services for industrial machines. We use Dry Ice Cleaning for our technical cleaning services.
Dry Ice Cleaning Offers Many Benefits
We train our technicians in Dry Ice Cleaning. Dry ice is a cost effective  as well as practical process for technical cleaning. Cleaning surfaces using dry ice is among the most modern processes in technical cleaning. Cleaning with dry ice is very beneficial for your industrial machines as well as being affordable. The principals between cleaning with dry ice and classical blasting methods of cleaning are similar, but cleaning with dry ice goes one step further, and also offers a deeper clean.
Dirty Machine Before Cleaning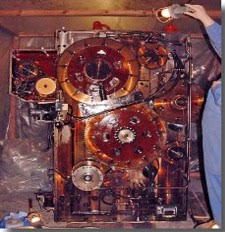 Clean Machine after Technical Cleaning and Dry Ice